As a breeder of pedigree cats for many years before moving to Spain in 1998 I was appalled at the plight of cats in Spain and how little help was being given to them by rescues who are not set up to house / rehome cats.
Being owners of a licensed boarding kennels / cattery and animal transporters here in Alhaurin el Grande, Spain my husband and I decided to help the cats of the Costa del Sol and so "The Gift of Life Cat Rescue" came about. From then the future of some unfortunate Spanish cats looked a lot brighter.
"The Gift of Life Cat Rescue" is dedicated to saving abandoned, stray or abused cats and kittens either from their lives of hell trying to survive on the streets of Spain or those sadly already in the government pounds (killing stations) waiting, often in awful conditions, to be put to death.
Before

Before

Before

After

After

After

Athos was left alone to die on the
street

Cloud was found collapsed and near to death

Valentina was rescued after being
attacked
Space and finance permitting we rescue as many cats/kittens as possible from dangerous situations. We often find ourselves climbing into disused buildings, down manholes or rummaging in the rubbish bins searching out the cries of tiny kittens or puppies, who we also rescue, and place in the care of friends at dog rescues.

| | |
| --- | --- |
| | |
| Madeleine was found begging tourists for food | Fluffybum was rescued from the rubbish bins |
All of our cats are first blood tested for FELV and FIV (Feline leukaemia and AIDS ) and if negative they are vaccinated and come in to our cattery where they receive the love and care they all deserve. Sometimes the cats are very traumatised when they arrive but with time and gentle handling they relax and learn to trust humans and become beautiful domestic pets. Others who are abandoned, but have at one time been family pets, come in and immediately crave affection which of course we are happy to give.
| | |
| --- | --- |
| | |
| Kittens found on the streets in Marbella | Razzie found abandoned in Cádiz |
During their stay with us they are neutered, vaccinated, micro-chipped and given any veterinary treatment they may need. They are also character assessed so that we can find the perfect home for them as it would be unkind to put a shy cat in a home with children or a cat who does not get along with other cats into a multi cat home etc. No matter how long it takes once a cat comes into our care it stays until the right forever home is found – and thankfully it always is.
Once we are happy the cat is fully rehabilitated we start to look for a loving home for them in the UK. All homes are FULLY vetted by our UK volunteers and aftercare advice is always on hand, we all work hard to match the right home to the right cat and without everyone's dedication "The Gift of Life" would not be able to do the good work we strive to do for the Spanish cats.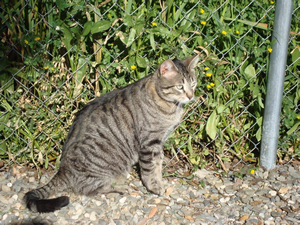 Thomas found at the rubbish tip
As fully licensed OCA / TRACES animal transporters when a home is found for them in the UK my husband and I drive them to England where they will be safe and happy for the rest of their lives. For us it is sad to lose them but fantastic to see them go on to a wonderful future.
If you feel you would like to give a home to one of our many beautiful Spanish cats please either contact me in Spain on this web address or one of our volunteers in the UK on our Facebook page, where you can also see their photos and follow up their journey onto their new life on our "Happy Ever After" page. Between us we will help find the perfect cat for you.
We never take a cat to the UK without it having first been adopted into its forever home and to date have successfully homed over 1,000 cats.
We do have to ask for a donation towards the cost of their passports and travel otherwise our work cannot continue, as we rely totally on donations.
| | |
| --- | --- |
| | |
| William was rescued from the Córdoba killing staiton | Chattycat was taken off death row just in time |
We all work together out of our passion for these poor Spanish cats and receive no outside financial help. We fundraise in various ways here in Spain, but funds are always very limited.
If you would like to make a donation and help give "The Gift of Life" to the cats please use Paypal:
We also accept bank transfers, please email us to request our account information.
100% of all money received goes to the cats to help with their care, rehabilitation and vet fees etc and also their travel costs to a happy life in the UK.
Everyone at "The Gift of Life" are very grateful for any help you feel you can give.
Thank You,
Denise Whitehair
(Founder of The Gift of Life)
info@giftoflifecatrescue.com